FROM the Desk of Manojkrishna
Manojkrishna is a renowned casting director who started his career with the South India Film Industry, Tamil Nadu, India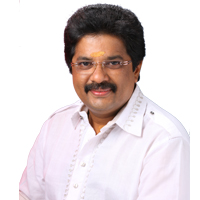 A common belief is that acting is all about exhibiting natural, instinctive skills that one is born with. In reality, acting is a quality that can be stimulated and sharpened over time having undergone proper training. From small beginnings three decades ago, our business outfit SUNSHINE MODELLING from the house of SAI AURA INFOTAINMENT Pvt. Ltd., has seen significant growth and marked progress in all indicators, in the entertainment industry. This casting house was envisioned to provide direction to careers into the film industry and has reached an acclaimed status of being committed to technicians and artistes across genres and ages.
With an acting career of many years behind me, I have had multiple instances to understand the challenges that face aspiring actors during auditions and as a result our casting outfit was deliberated and formed. We are proud to have claimed our rightful position as pioneers in the field of 'Professional Casting services'. More importantly we have come thus far, based on our values of humility, respect, commitment and sheer hard work.
To be hoisted as amongst the leading casting and modelling agencies in the nation, we pride in possessing portfolios of some of the most talented artistes, models and crew. We have a rich account of having shaped many careers in the entertainment industry. Having made a mark in India and abroad, Sunshine Modelling has numerous success stories of introducing good talent in films, television, advertisements, modelling, theatres and events.
History repeats in the NEW AGE...
To keep with the times, our new avatar, SHINEWOODS is ready for everyone to access. SHINEWOODS, in principle, is, 'Old wine in a new bottle', interwoven with the latest in technology. Enormously user friendly, this platform is for anyone who is interested in exploring the showbiz slice of life. The rise of social media and Internet has transformed work culture globally and has made the work space extremely exciting. We are rapidly getting out of our comfort zones and pushing the limits of our creativity using technology. We look forward to be connected with the media community on the web environment.
Register with us to follow your dreams...let us be your MENTOR
We acknowledge the contributions of all stakeholders and appreciate all those who have worked in the front-lines, and the backrooms to make us what we are today. I believe that together we will continue to accomplish significant work and lead from the front to achieve our objectives. We have miles to go.
My best wishes to all for a successful journey in the entertainment industry.